When the world changed in 2020, the Centre was faced with the challenge of bringing art to young people in the context of our changing world. While we pivoted our in-house programming to digital mediums, our team recognized that students in schools were a key demographic in need of artistic inspiration during the pandemic.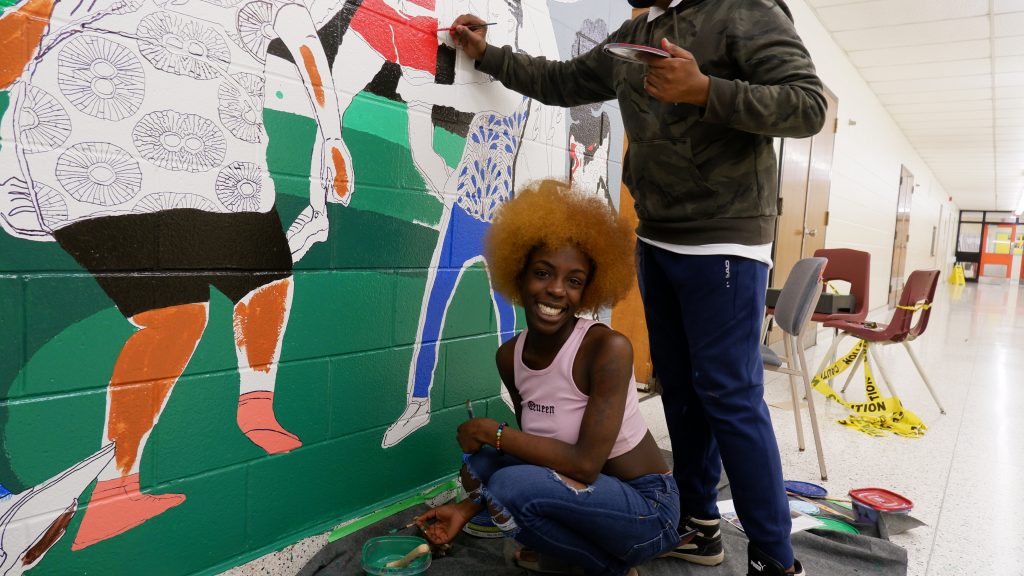 Through a partnership with the TDSB and other school boards in Ontario, we have been able to bring artists and creative traditions from the Afro-diaspora to schools across the region. In the last year, we have worked closely with over 20 schools to provide students with Afrocentric arts education. By combining our community-centric programming model with the guidance of the talented facilitators on our roster, we were able to bring soca dance classes, creative writing sessions that highlight local literary giants, and animation workshops.
Last May, we had the opportunity to create a number of murals with local schools. We worked with students at CW Jefferys Collegiate Institute to create a unique artwork that displayed the students commitment to celebrating Black leaders and Pan-African solidarity.
In every environment, our work requires us to dismantle negative perceptions of Black artistic traditions. Ideas about Black music, art and history being undervalued in the school system are have long persisted across Canada. For this reason, it's been an important for us to work directly with students to build an appreciation for Black culture at this influential stage of their lives. 
The process was collaborative from start to finish. The students began by collectively mapping their class ethos: pulling together core themes like unity, diversity and community as markers that represented their school. After developing their core concept, it was time for these young people to pick up their paintbrushes and get to creation. Each day, students worked closely with muralist Curtia Wright to develop their visual concept and build their artistic skills. 

"Murals evoke conversation and pride in one's space" said Curtia. "They create a landmark and, of course, add a bit of beauty to the places in which they reside". The students created conversation in their space by raising up Black icons. They selected Canada's first Black MP Lincoln Alexander, Queer-rights activist Marsha P. Johnson, Pan-African liberation icon Marcus Garvey and Canada's queen of RnB (and CW Jefferys alumni), Jully Black, as heroes for their mural. Symbols like the Black Power fist, the Sankofa symbol, the Pride flag and more were painted on the wall to show the class's commitment to building a better world together.
Working with students always teaches us something new about how youth are engaging with Black history, culture and our social climate. "This project highlighted the importance of providing youth with a platform for their voices and ideas to be heard," said our program coordinator, Sanique Walters. "It was great to see the students come out of their shells, vocalize their ideas and empower one another throughout the mural creation- from concept, design to painting. Seeing young people be excited to display their love of their heritage, elders, and be excited for their futures- shows us the value of the work we do at Nia Centre". 
Find out more about how Nia Centre can work with your school by clicking here.