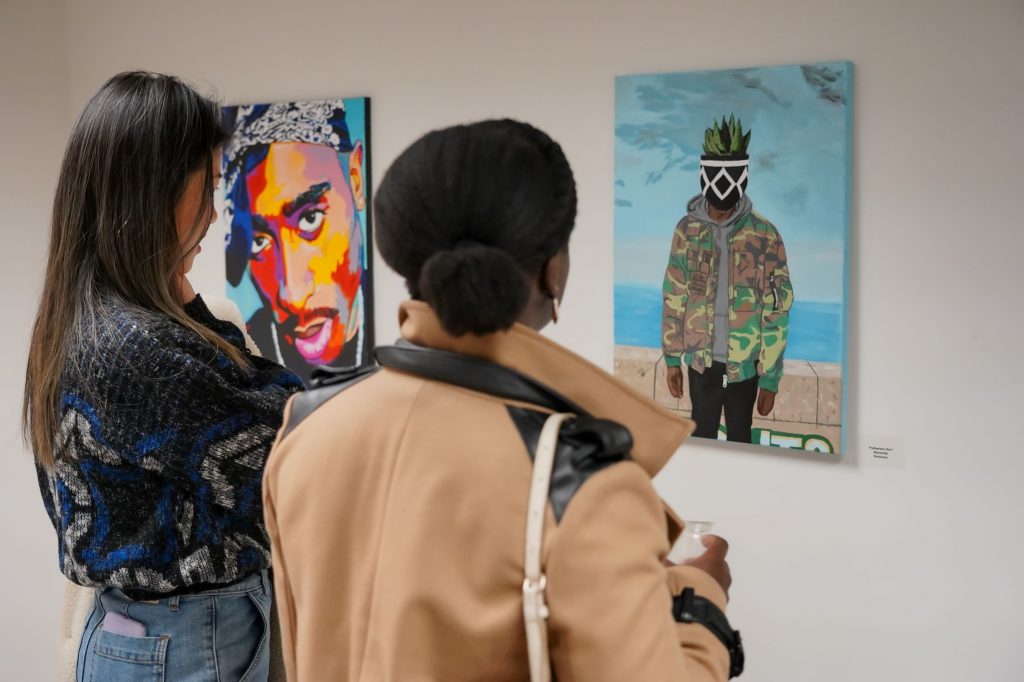 A Canadian
First
Our facility, opening in Fall 2023 will be the first professional, multi-disciplinary centre for Afro-diasporic art in Canada.
It has always been our mission to address the lack of safe spaces for the Black-Canadian community. We are proud to build on the legacy of Black creativity and entrepreneurship in our community. Our strong connections to the artistic community will enable the Centre to attract audiences from across the region to experience art and culture.
From drumming to digital art installation, theatre production, and movie screenings—our space will open the doors for Canadians to understand how our history and culture are shaped by the Afro-diaspora. While fostering the growth of local Black artists, together we'll build a more inclusive, culturally aware society.
---
We Need Your
Help
Construction is nearly complete and in order to fully realize the vision for the Centre, we are working to put the finishing touches on the space, with the furnishings and equipment to bring the Centre to life.
It's important to not only celebrate Black artists but also invest in their futures. Every dollar counts as we prepare to open our doors. Help us share our goal with your friends and family, so that we can build a legacy for the community—together.
Over $10-million in funding has been raised and the grand opening is scheduled for early 2023.
Donate Today!
---
Why
Now
Real Estate
Rising costs of real estate have made arts spaces inaccessible.
Space
Black artists & community organizations are traditionally pushed out of spaces as our cultural art forms are seen as less than mainstream.
Disapora
Toronto is home to Canada's largest Black community, but we don't have a space to gather.
Through Nia Centre, I have participated in several group shows, sold artwork, spoke on a panel and facilitated a painting workshop. I truly believe the Centre has been a major stepping stone that has further propelled me into my purpose this year. The future is bright for Nia Centre and those who cross its path.

Shantel Miller

on Black Art Space
---
What We're
Building
Once completed, our renovated space at 524 Oakwood Avenue will be fully accessible and feature:
A 150-seat multi-purpose performance space
A digital media studio
A recording studio
An artist studio
Youth space
Event space
Board room and co-working spaces
Gallery space
These studios and spaces will allow artists to create, perform and exhibit work in music, dance, photography, digital media, visual art, film and theatre.
Read more about Our Space
---
Donate Your
Car
When you donate your car, truck, RV, boat, or motorcycle to Nia Centre for the Arts through Donate A Car Canada, it will either be recycled or sold at auction (depending on its condition, age and location). Donate a Car Canada will look after all the details to make it easy. After your vehicle donation is complete, they will send you a tax receipt and we will put your gift to good use.
Learn More
---
Our
Impact
Read Our Stories
---
The
FAQs
Answers to frequently asked questions:
As a charitable organization, all donations over $20 are eligible for a tax receipt.
If you make a donation through our Canada Helps page, you will automatically receive a tax receipt. If you chose to donate by cheque we will issue a receipt within 30 days, just be sure to include the address you would like the receipt addressed too.
If you're interested in making a major gift, please contact us directly at info@niacentre.org.
Tell a friend, share on social media, do whatever you can to share throughout your networks. We have an ambitious goal, and we will need a movement in order to bring our vision to life.
We appreciate any effort to get the word out to as many folks as possible. Please follow us @niacentre on Instagram, Twitter and Facebook to keep up with the latest news on this project.