Interested in getting feedback on your creative writing? Looking to connect with other emerging Black writers? Writing can sometimes feel like it's done in isolation, but Nia Centre is here to help you tap into and lean on community.
Join author and community engaged writer, Whitney French for a supportive group critique of participant work. Writers will submit their work in advance, to be read by all participants in the Critique Circle. During this two part workshop, participants will read the work they've submitted, and Whitney will then guide them through a group critique of the work, offering supportive insight, feedback, and celebration.
Session 1 | Monday, May 29, 2023, 6 – 8pm
During this session, facilitator Whitney French will guide participants through how to best give and receive literary critique in a group setting, and model what a group critique can look like with her own writing.
Session 2 | Monday, June 19, 6 – 8pm
During this session, participants will read their submitted works, and receive supportive and critical feedback from Whitney and the group.
Submission Guidelines
After Workshop 1, each writer will be required to submit up to 3 pages of literary work. These works will then be compiled into a single Writers' Package, which will be shared with Whitney and all participants two weeks in advance of Workshop 2. All participants will be required the full Writers' Package.
Submitted works must be 12pt font, double spaced. All literary genres are welcome.
---
In order to create an intimate and supportive environment, space in this workshop is limited. Priority will be given to participants who identify as Black / Afrodisporic.
About the
Facilitator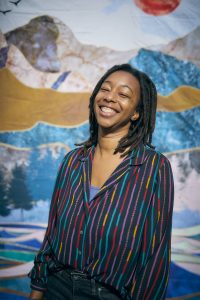 Whitney French (she/her) is a writer, multidisciplinary artist, and publisher. She is the editor of the award-winning anthology Black Writers Matter (University of Regina, 2019), the winner of the Saskatchewan Book Award for Publishing 2020. She also is the editor of Griot: Six Writers Sojourn into the Dark (Penguin Random House, 2022) Canada presented by Nia Centre for the Arts. Whitney French is also a certified arts educator. Her writing has appeared in ARC Poetry, GEIST, the Puritan Magazine, WATER Magazine, CBC Books, and Quill and Quire. As a Hurston Wright Foundation and Watering Hole fellow, Whitney French is a self-described Black futurist, who explores memory, loss, technology, and nature in her works. Language is her favourite collaborator.
Whitney has lectured and presented in spaces such as Spellman College, Festival of Literary Diversity, Wayne State University, SOHO House, Aga Khan Museum, and Howard University. Having worked as both a developmental and acquisitions editor, French is now the co-founder and publisher of Hush Harbour, the only Black queer feminist press in Canada. Currently, she lives in Toronto.