To commemorate the 77th anniversary of Viola Desmond's historic stand against racial segregation in 1946, Nia Centre and TIFF have partnered to present Here to Stay.
Here to Stay is an experiential exploration into the concept and existence of Black spaces. Across Toronto, Black communities have forged formal and informal spaces to build community and engage in advocacy, education, and celebration. These spaces, while largely unrecognized, have undeniably shaped our city's culture. Against a backdrop of development and rapid changes in the city's physical landscape, this mixed-media installation will use Nia Centre's newly renovated arts facility as a reference point for Black space ― exploring what was, what is, and what will be.
---
Collage Workshop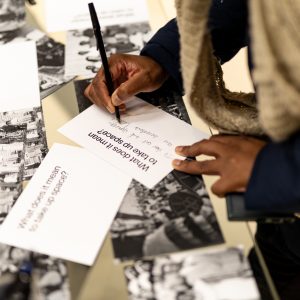 We are pleased to present a community-engaged collage workshop on Saturday, December 2, 1 – 3pm at TIFF Bell Lightbox to extend the themes of the exhibition.
Utilizing archival material, multidisciplinary artist Emkay Adjei-Manu will guide participants in creating a collage that looks at Black Canadian History, community memory, and visual storytelling. This workshop aims to provide participants in a tactile experience while cultivating a deeper understanding of Black Canadian history, cultural place-making and identity.
Learn More