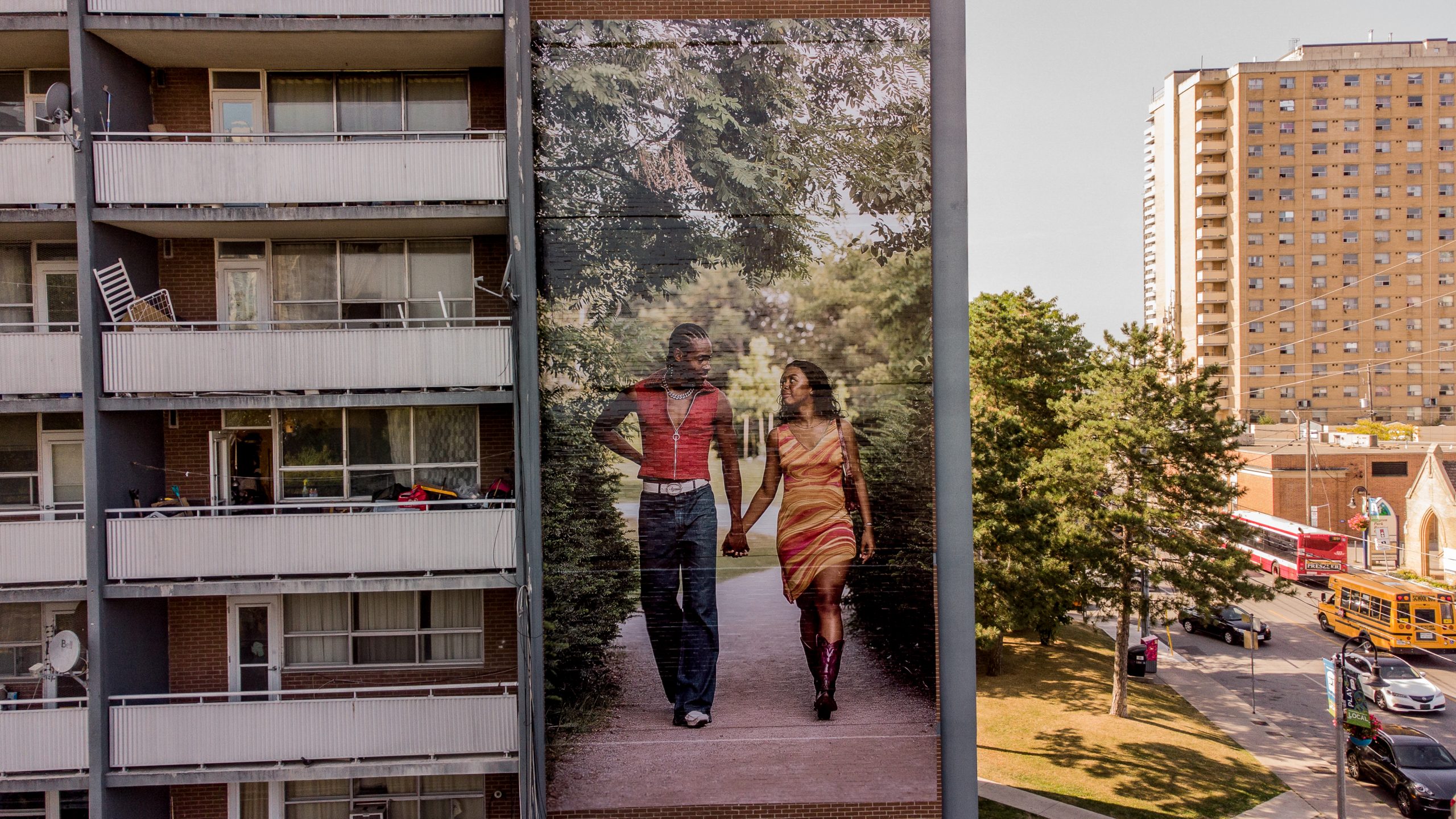 Public art is public good. We know that beautifying a neighbourhood has the power to shape how local residents feel about the place where they live. In Toronto, the power of public art has been largely limited to our downtown core. With the exception of a few landmarks like Reggae Lane, public art in Black and Brown neighbourhoods - art that represents the people - is sorely missing. Bonded Across Time is an intervention to bring contemporary public art to where the people are.
The installation, which features a photograph by Toronto-based, Nigerian photographer Isabel Okoro, lives on the side of a Toronto Community Housing (TCH) property at the Weston and Lawrence intersection. Through a partnership with the City of Toronto and TCH, we were able to bring Bonded Across Time to life.
This month, we spoke with Isabel Okoro and project curator Anthony Gebrehiwot about the value of public art in Black neighbourhoods and the importance of community in shaping our cityscape.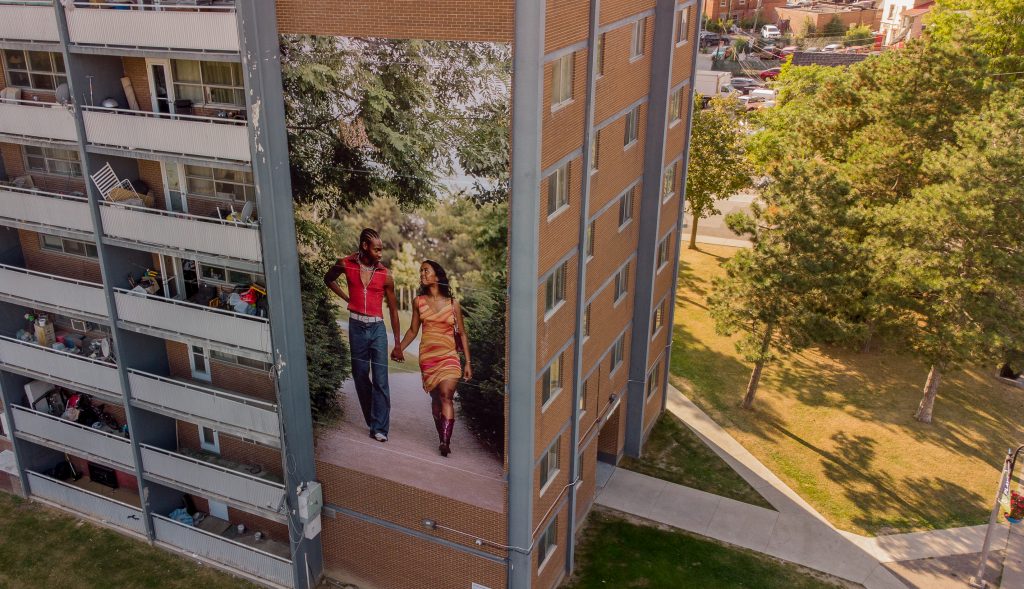 Isabel, your photograph 'Untitled (Lex & Shai)' is installed at the Weston and Lawrence intersection. Can you tell us what inspired the photo?
IO: I made this image for my book, Friends in Eternity. I was looking to portray romantic love within a natural landscape, and I've known Lex and Shai for a while. I wanted to represent Black love, unbothered. I acted as a fly on the wall and photographed them as they moved through the space in admiration of each other.
What do you hope residents and the wider community take away from this installation?
AG : I hope that residents and the wider community can feel that despite everything crazy that's going on the world. There's a still a place that exists where love thrives, where community perseveres, and that when both of those things come together, there's no force that is greater.
IO : I hope they're inspired by the public display of affection, and it motivates them to be louder about their own love(s)...for each other, and for their community.
Isabel, you have had a busy year as a photographer. What have been some career highlights for you in 2023?
IO: Having my first solo show earlier in the year was definitely a highlight, especially because I was able to explore new techniques and ways to present my images. Another highlight of my year was traveling back home to work with the Lagos Space Programme, to develop the visual universe for their Woolmark Prize-winning collection. It was my first time doing something like that, traveling within Nigeria for work, and I think we created something magical.
Anthony, what stood out to you about Isabel's work and artistic process, as a fellow photographer?
AG: I think what I appreciate the most about Isabel's work is her ability to build a visual bridge between West Africa and us here in the Western part of the world. Her skill set is not just limited to photography. She's a great visual communicator and world builder through film as well.
Bonded Across Time lives at 5 Bellevue, a property owned by Toronto Community Housing. What was the experience of curating a public art project that lives in this kind of residential space?
AG : It was a beautiful experience! My father lived on Jane street for most of my adolescent years so I innately feel a connection to the community. Prior to installing the work, we did a community consultation where we got to know the residents of the building and break bread with them. They were such a joy to be around. The goal of this project was to have more art and representation on the margins of our city since most of the public art that we see is located in the core of the GTA.
Do you have any thoughts on the presence of public art (specifically photographic works) and how it informs Toronto's cityscape?
IO: For me, I think that art should be accessible for everyone to enjoy. There's a lot of power in an image and everyone should be able to experience the feeling of being moved by something. Public art can also help shape the beauty of a neighbourhood and the ways people interact with it.
AG: When it comes to the presence of public art across the GTA, I think we can all agree that there isn't a lot of photographic presence. I think we have a lot of murals (which are amazing) but photography can often get represented in the commercial space instead of the public sphere. In the same way that murals can add more of creative, social, and political charge to contend against our modern cityscapes, photography holds that same power.
Anthony, our audience is most familiar with you as a photographer, what was it like stepping into the role of curator and do you hope to do more curatorial work?
AG: Despite being known for photography and digital art, what I'd like people to know is that I'm very passionate about the state and presence of art in Canada. I think there's a lot of work to be done in terms of making sure that a variety of voices get elevated and heard. I have stepped into the role of a curator in the past and will continue to do so as a way of presenting artists and artworks that I believe in. I get a lot of joy out of carefully providing a platform for artists that feels safe, considerate and exceptional.
What do you folks have coming up and how can our audience support you?
AG : There are a few things in the works for me. My portrait of M. NourbeSe Philips was just featured in CBC's documentary series "Black Life: Untold Stories". This month, I will be leading a workshop : "Visual Journaling with Black Archives" alongside Melissa J. Nelson for Archives Ontraio. This workshop is a love letter to Black record creators who have documented and passed on their life's stories. Lastly, I'm currently working on multiple public art installations that will be coming out in 2024.
You can support me by following me along my journey, purchasing/acquiring my work, and connecting me to other creative organizations and institutions. Love!
IO: I'm currently in Mexico City completing an artist residency at FABRICA, where I'll also be having a solo show in October. To support me, please let me know how the work makes you feel, come to the shows, tell other people about it... buy it! (via Ninth Editions).
Bonded Across Time is a City of Toronto Cultural Hotspot Signature Project
---
Meet the Artists
Isabel Okoro (b. 2001, Lagos, Nigeria) is a visual artist currently based in Toronto, ON.
She is exploring the interactions between the motherland and the diaspora, and coined the term normatopia to describe a space which considers the tensions between a harsh reality and a utopia, and chooses to rest and thrive in the humanly achievable sweet spot that exists in the middle.
At the cornerstone of her practice is visualising and developing an imagined world, Eternity, as a space to immortalize community members through stories of speculative fiction that embrace her concept of normatopia.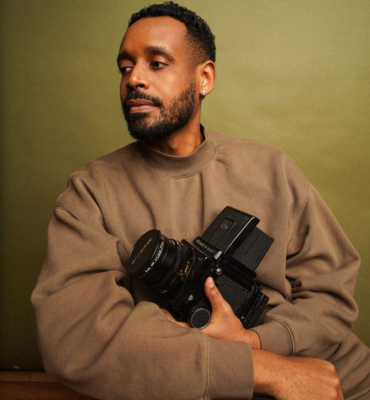 Anthony Gebrehiwot is a multiple award winning visual artist, photographer and community leader whose creative lens re-visions photography as an ongoing dialogue of social change between subject and society.
A self-taught artist and photographer, Gebrehiwot founded XvXy-photo in 2014 focusing on studio portraiture. To date, he has worked with several notable brands such as Nike, Royal Bank of Canada, Vice Canada, Absolute, Hudson Bay, The City of Toronto and Linkedin to name a few. His work has been featured in over forty local and international publications such as the Star, the Globe and Mail, PAPER Magazine, Elle UK and Yahoo Lifestyle.