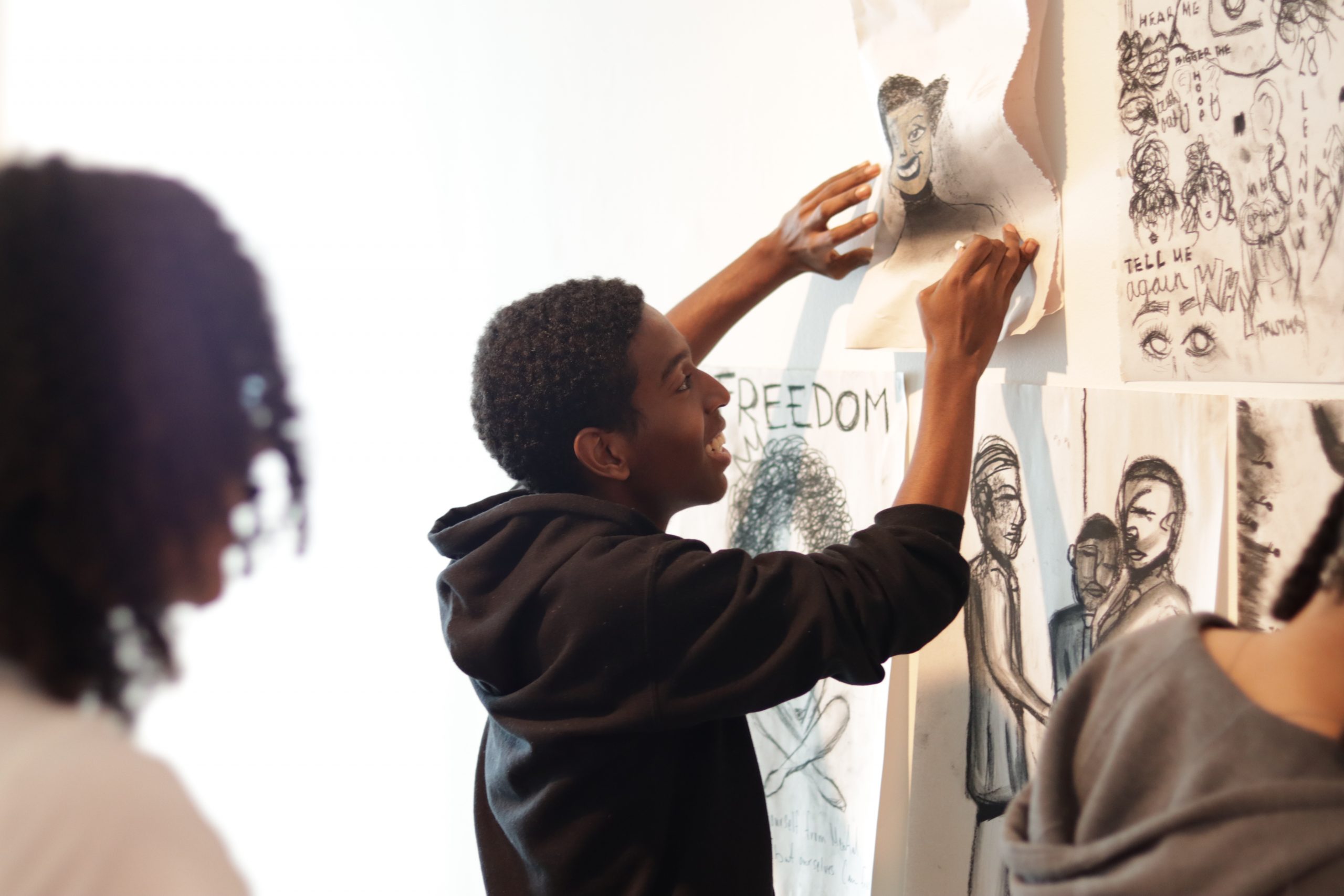 "I enjoyed learning about Black History apart from slavery. Slavery is all we're taught usually in school"
Malcolm X. Rosa Parks.Martin Luther King Jr. Harriet Tubman. For a long time, these four names mapped out the Black narrative. Every February 1st, schools across Canada would be transformed into a timeline of "Black History". Posters of Black American Heroes covered their walls, their powerful words of freedom were eloquently spoken over the morning announcements, and instead of O'Canada, "Lift Every Voice" was sung at assemblies. For 28 days, and on occasion, 29, the curriculum traced the history of slavery, the Black experience, movements, and more.
As part of our Creative Connect program, which creates space and opportunities for youth across Toronto communities to explore their artistic interests, identities and expand their knowledge outside of the classrooms, we collaborated with TOLive to bring students and teachers from the Etobicoke School of the Arts to tour the photography exhibition, Ears, Eyes, Voice!
Curated by Julie Crooks and presented by Black Artists' Networks in Dialogue (BAND),  Ears, Eyes and Voice documents over three decades of stories and moments that transcends our history books, to tell the important history of Toronto's diverse Black communities and families through the lens of Black Canadian photojournalists Al Peabody, Diane Liverpool, Jules Elder, Eddie Grant, and Jim Russell.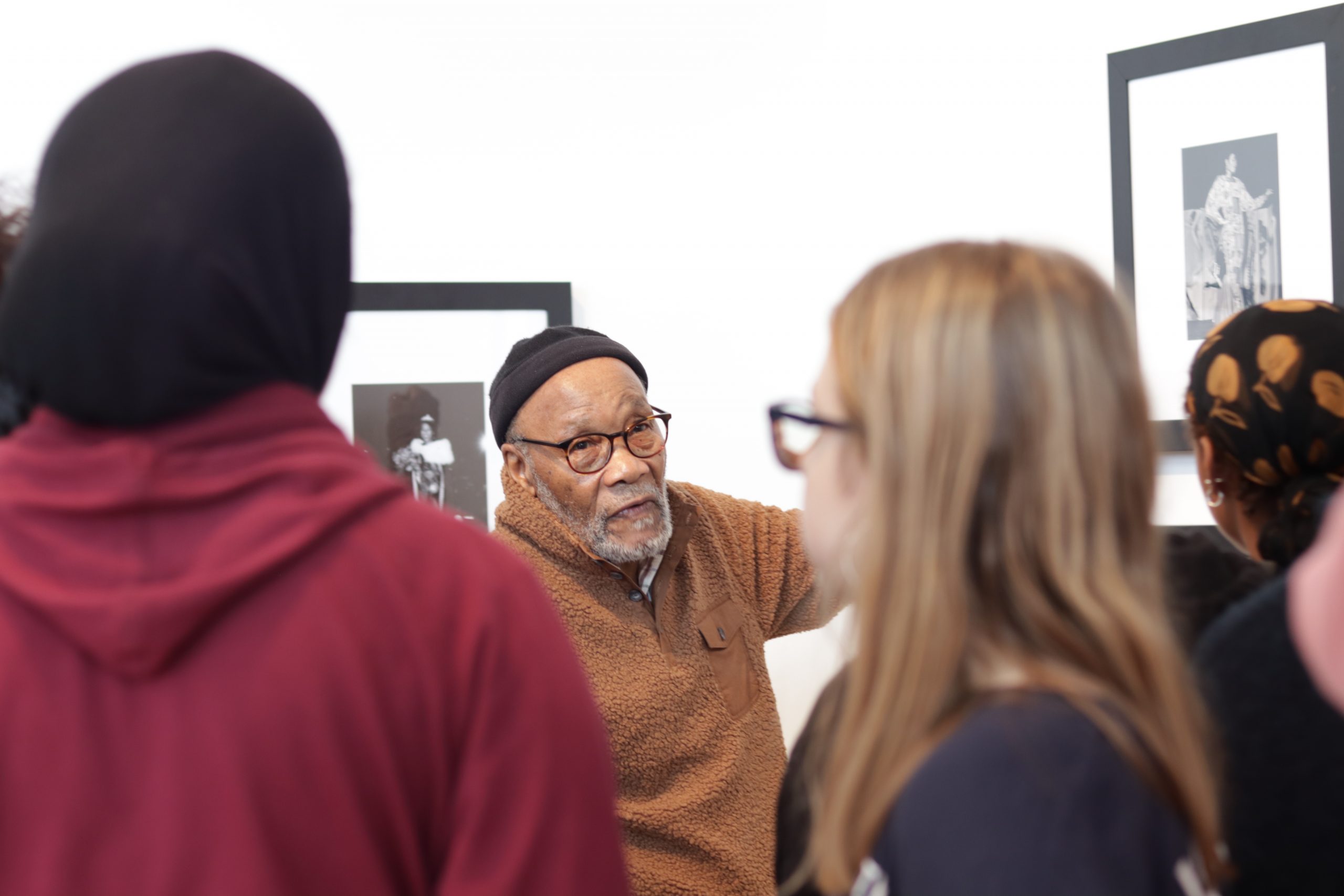 Mr. Peabody was amazing! I love that we got to meet and learn from him because he actually lived through what we usually hear about. It really opened my eyes, it put faces to history which was so inspiring and powerful. I enjoyed how much of a family connection I felt with everyone.
Students from the Etobicoke School of the Arts had the honour of participating in a guided tour of the exhibition by by featured photojournalist Al Peabody. As students gathered around each photo, Al brought the group in close, as he recounted his memories and shared his stories of his lived experiences in Canada, including witnessed the caging of Caribana revellers behind iron gates at Centre Island when they waited for their ferry, and a myriad of movements, demonstrations, events in pursuit of equality and freedom. As the room filled with "wows", a feeling of affirmation was shared among the group.
From pageants to block parties, demonstrations, liberation movements and more, their cameras captured the Black experience. Their photographs archived and framed the symbolism, complexity and significance of our Black history, both locally and across the African Diaspora. Charles Roach. Rhonda Broadbelt. Dudley Laws. Sherona Hall and more. These names that helped us map Black Canadian history in Toronto and advance the narratives and experiences of Black people.
Touring Ears, Eyes and Voices, hearing the history behind each image with Al as their guide, helped students learn more about the legacy of Black community. It was then time for the students to tell and showcase their our stories in the same space.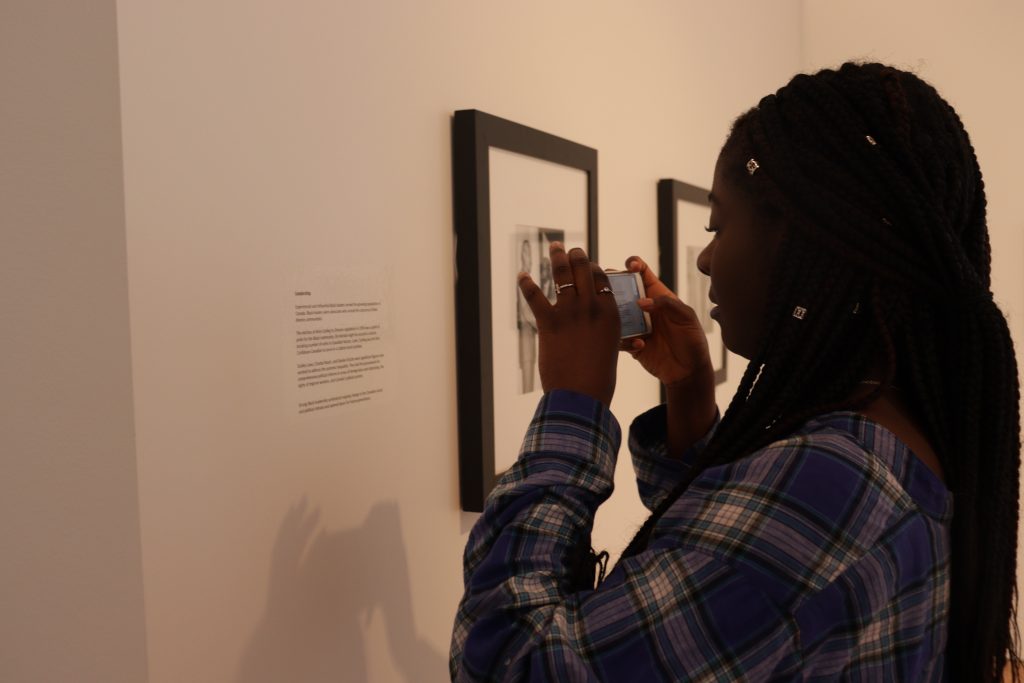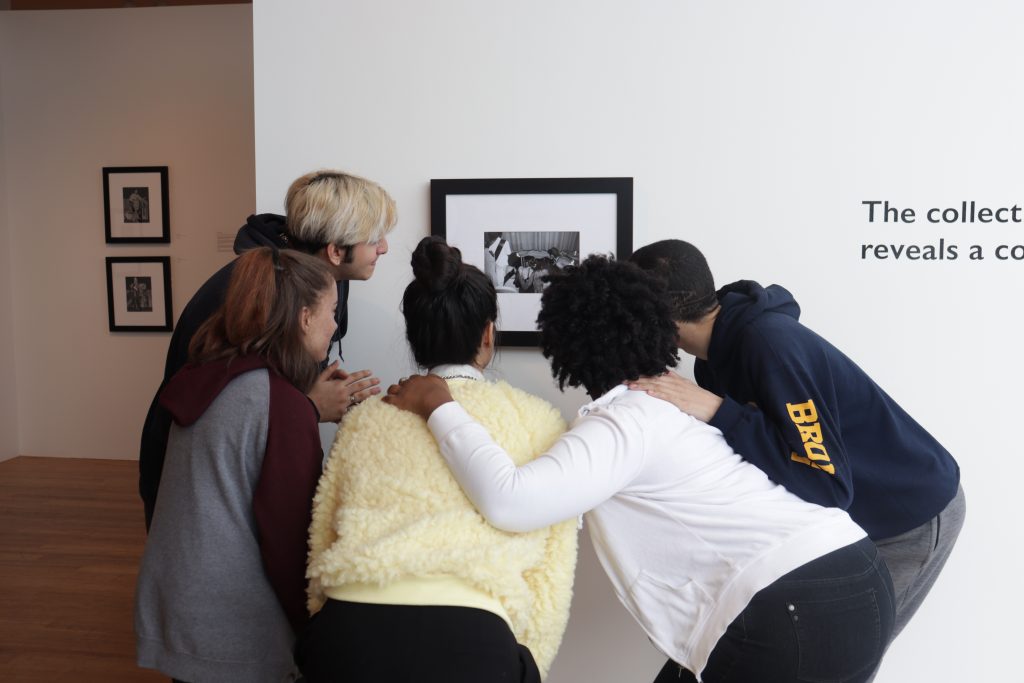 ---
After a fulfilling and mandated pizza lunch, (is it a field trip without pizza?), students ventured to a separate space and began developing visual art responses to the exhibition and their time with Al. Students worked with multidisciplinary artist and curator Tim Hunter, as he led them through a reflective workshop, working with newsprint and charcoal to share their own stories and experiences in response to the themes of the exhibition. The space fell to a hush as they put charcoal to paper, fuelled their individual and collective thoughts, feelings, and experiences. One by one, students pulled out our phones to reflect on their images and archival moments captured through their lenses. A few sat with Al and Tim to gain insight on how to document their stories on newsprint. The hush slowly became laughter, and smiles were shared as they gathered together to tell Canada's Black History through their eyes.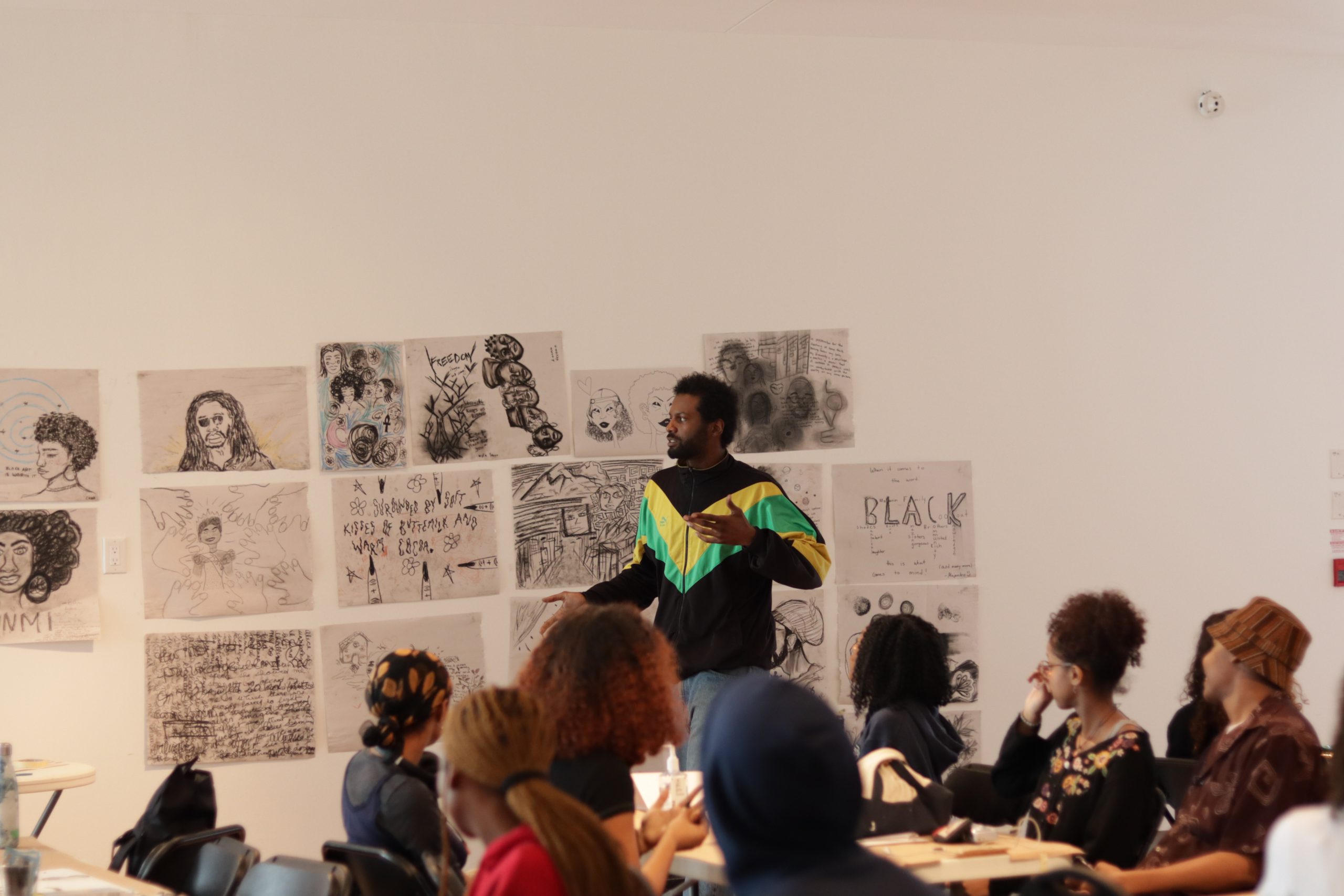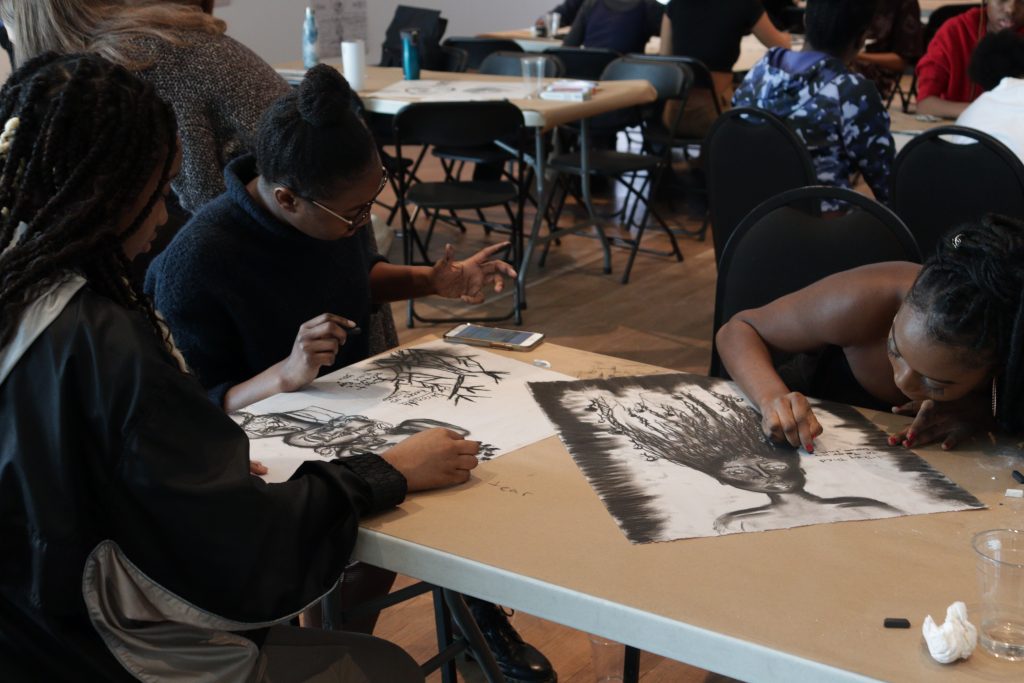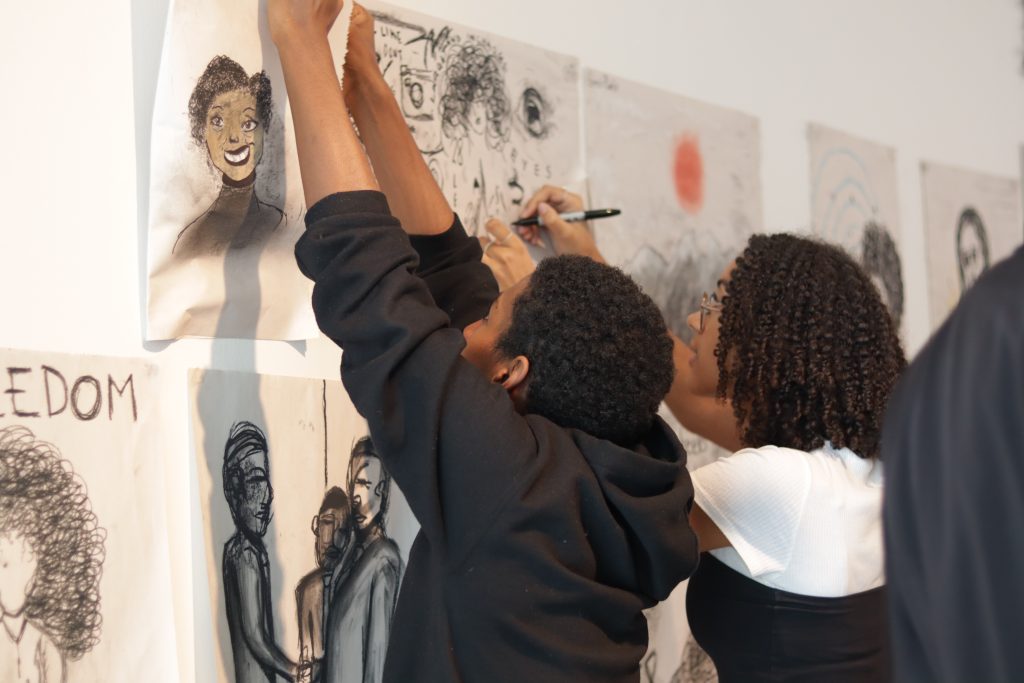 Students transformed the space into gallery, proudly exhibiting their work. Newspapers rarely depict the happenings of Black Canadian communities.They have been, and continue to be erased, mistold or overlooked in mainstream media outlets.  Together with the help of Al, Tim, and the Ears, Eyes, Voice exhibition, students put back the words and images of Black experiences and memories on the same newsprint paper that, at a time, served to erase the narratives of Black Canadians. They didn't tell a sad story. They didn't recount a singular narrative of slavery. Individually and collectively, they shared themes of the strength of Black families, the resilience of Black identities, and the love Black communities share surrounding their stories, land and community. The symbolic nature of the room where students created these reflective pieces left them in a state of what Dionne Brand would call, wonder.