In the Caribbean, there's a proverb about small but mighty things: "we likkle but we tallawah". Our neighborhood, Oakwood Ave, embodies that sentiment to the fullest. Oakwood Avenue is an enclave in West Toronto, filled with stories that make Little Jamaica special. Bordered on either side by the St. Clair West and Eglinton West main streets, the neighborhood is an almost unassuming mixture of residential homes, family owned businesses and community organizations.
Ali's Grocery Store has been cemented at the Oakwood/Vaughan intersection since the early 2000s. In the early 90s, Ali left southern Ethiopia for Italy with his family. His migration story saw him move from Europe to Columbus, Ohio, where he stayed for many years before coming to Ottawa and eventually settling in Toronto.
When he came to Canada, Ali knew that he wanted to work for himself. He began working as a taxi driver and not long after, he came to Oakwood Avenue with the idea for a storefront that would serve the neighborhood's growing and bustling Caribbean community. Since then, Ali has showed up faithfully every day to open his store. From the entryway to the back, the small shop is filled with every basic household necessity. Plantains, provisions, bottles of kola champagne and tins of ackee and coconut milk are abundant on the shelves. At holiday times, the front of the store is lined with barrels bound for the Caribbean.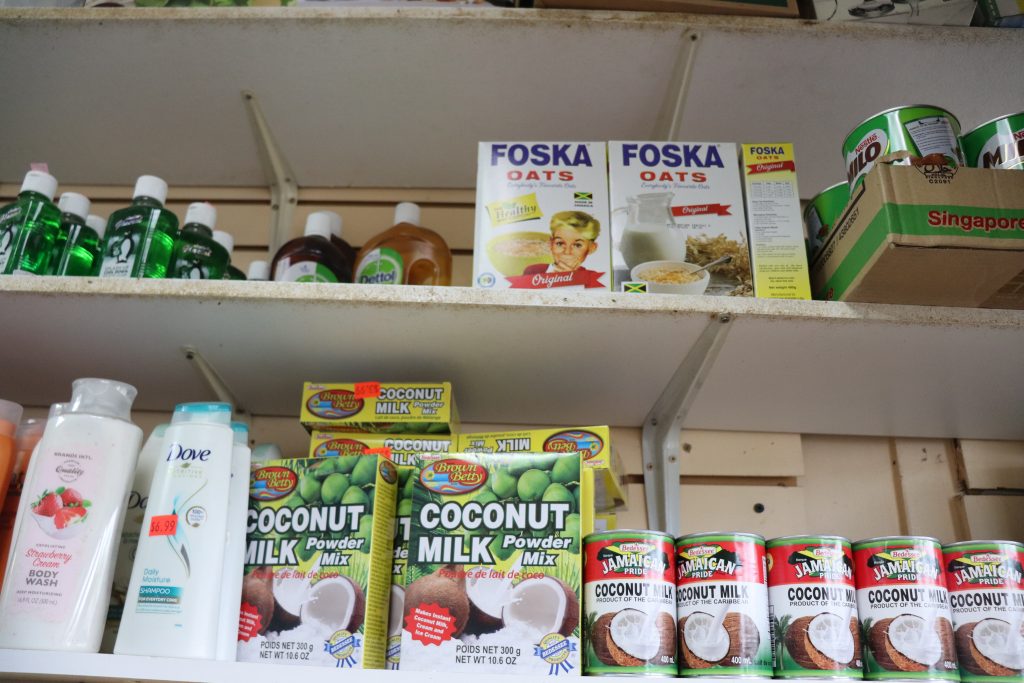 For as long as it has been open for business, Ali's Grocer has been family operated. Over the years his brother, children and nieces and nephews have all worked the shop floor. The sense of community extends past blood relatives. The store is the first and last stop for many, young and old, who live in the neighborhood. On any given day, one can go into the store and find Ali in conversation with someone in search of their daily necessities, most likely speaking to him in patois.
Earla's Kitchen stands proudly across the street from Ali's. The women-led and family owned Grenadian restaurant opened its doors in the early months of 2023, bringing the Spice Island to Little Jamaica. Earla, the owner and lead chef, began cooking in her mothers kitchen. It was there that she learned to make Grenadian staples like oildown, pelau and lambie souse. When she and her family came to Canada, food was a way to recall home. For many years, Earla ran a kitchen in her home: cooking delicious meals for community members - restaurant style. When her home restaurant became overwhelming, Earla knew that her next step was to scale up and find a forever home for her cooking.
Since Earla's Kitchen has opened, the neighborhood has flocked to her doors. Earla and her sister Alicia run the kitchen, coming in early every morning to cook up the hearty meals they serve to customers. On Seafood Fridays and Oildown Sundays, the line of hungry customers filters into the street, with customers coming from all over the GTA for a taste of home.
At the Oakwood and Rogers Road intersection, Skin Tones Beauty has just joined the long heritage of beauty salons in Little Jamaica. The spa is a small, aesthetic oasis on the street. Their cozy and trendy interior design makes for a relaxing environment for the leading aestheticians, best friends and co-owners Mati and Novi, to tend to your skin. Their services are welcomed in a time when more people than ever seem to desire a better understanding and relationship with their skincare routines. When they decided to open the store, the long-time friends knew they wanted to create a skincare space that celebrated and properly cared for melanated skin. Their treatments offer people of colour a space to treat their skin in a way that mainstream spa's don't offer, at an affordable price. 
In the fall of 2022, we worked with local businesses and artists to bring the energy back to the street. 'More Than Little' was a neighborhood activation, held in the avenue's sole green space: Charles Brereton Park. The marketplace offered local businesses and artisans the opportunity to share their products with both old and new residents and passersby, to give them a taste of what Oakwood Ave has to offer. We brought the soundscape of the diaspora to the park, with performances from artists like Suzette Vidale on the steelpan, Ammoye and Tonya P with reggae fusion sounds and Kyng Moses gave us soca in the fall.
The new Nia Centre for the Arts will open just steps away from the Oakwood and Vaughn intersection, making us a neighbour to everyone on the street. Coming back to the neighborhood after a 2 year long construction project helped us understand how much the small but mighty strip needs a breath of new life. Years of economic neglect and the massive LRT development nearby has made the street a casualty of urban development. Yet, despite these challenges, local business owners, residents and community organizations have continued to show up faithfully everyday to make sure Oakwood Ave is a destination and a home for Black culture in the city.
Join us in showing Oakwood Avenue some love this season. Visit the Oakwood Village Business Directory to find the best places to shop local.